PERENCANAAN STRATEGIS SISTEM INFORMASI MENGGUNAKAN METODE WARD AND PEPPARD (STUDI KASUS: CV.GRAFIKA PRIMA MITRA AMBON)
Monice Frensca Johannis

Sistem Informasi, Fakultas Teknologi Informasi, Universitas Kristen Satya Wacana

Andeka Rocky Tanaamah

Sistem Informasi, Fakultas Teknologi Informasi, Universitas Kristen Satya Wacana

Hanna Prillysca Chernovita

Sistem Informasi, Fakultas Teknologi Informasi, Universitas Kristen Satya Wacana
Keywords:
Perencanaan Strategis SI/TI, Ward and Peppard Model, Mc farlan Strategic Gird, Value Chain, SWOT
Abstract
CV.Grafika Prima Mitra merupakan sebuah perusahaan yang bergerak dalam bidang percetakan pada CV.Grafika Prima Mitra belum menerapkan SI/TI sehingga kinerja menjadi tidak effisien karena belum mengunakan sistem sehingga perencanaan pengembangan belum terarah . Oleh karena itu, dilakukan penelitian tentang perencanaan strategis sistem informasi menggunakan kerangka ward and peppard. Dalam menyusun perencanaa strategis sistem informasi di CV.Grafika Prima Mitra dilakukan beberapa teknis analisis yakni: analisis lingkungan internal/eksternal menggunakan SWOT, sedangkan analisis lingkungan bisnis internal dan eksternal SI/TI menggunakan value chain. Pemetaan portofolio aplikasi SI di CV.Grafika Prima Mitra saat ini dan masa mendatang menggunkan Mc Farlan Strategic Gird. Berdasarkan hasil penelitian tersebut menghasilkan beberapa rekomendasi diantaranya pengembangan Web, Sistem Informasi Inventaris, Sistem Informasi Keuangan, Sistem Infromasi Pengelolaan persediaan barang dan bahan baku, serta Sistem Informasi Absensi dan cuti. Rekomendasi tersebut diharapkan dijadikan acuan pengembangan SI/TI perusahaan guna mencapai keunggulan kompetitif.
Downloads
Download data is not yet available.
References
Yosep Septiana, 2017, Perencanaan Strategis Dengan Pendekatan Ward and Peppard Model (Studi Kasus: Klinik INTI Garut), Jurnal Wawasan Ilmiah, vol 8
Farieda, Perencanaan Strategis Sistem Informasi PD. Alom Jaya (AJ). Universitas Gunadarma. 2011.
Thomas, Krista, 2014, Perencanaan Strategis Sistem Informasi dalam Meningkatkan Keunggulan Kompetitif Menggunakan Metode Ward & Peppard (Studi Kasus SMK Diponegoro Salatiga, Program Studi Sistem Informasi FTI-UKSW.
M.Qadafi Khairuzzaman, 2015, Perencanaan Strategis Sistem Informasi pada Perusahaan Perkebunan Kelapa Sawit Pengumpul Menengah di Kalimantan Barat dengan Menggunakan Metode Ward and Peppard, VOL.3 NO.1, Jurnal Khatulistiwa Informatika (https://ejournal.bsi.ac.id/ejurnal/index.php/khatulistiwa/article/view/1655/1207
Muhammad Afriano, Eko Darwiyanto, & Gede Agung Ary Wisudiawan, 2016, Perencanaan Strategis Sistem Informasi Menggunakan Ward and Peppard Pada PT. Grahacipta Bangko Jaya, e-Proceeding of Engineering, 3(1) : 1004
(Muhammad Afrianto, Eko Darwiyanto, & Gede Agung Ary Wisudiawan, 2016, Perencanaan Strategis Sistem Informasi Menggunakan Ward and Peppard Pada PT. Grahacipta Bangko Jaya, e-Proceeding of Engineering, 3(1) : 1004
Putra, P, S, Kemas Rahmat SW, & Erda Guslinar Perdana, 2014, Perencanaan Strategis Sistem Informasi Menggunakan Metode Ward and Peppard Pada PT. Medika Antapani, e-Proceeding of Engineering, 1(1) : 794
Lexy J. Moleong, M.A, 2013, Metodologi Penelitian Kualitatif, Bandung: PT Remaja Rosdakarya (https://rosda.co.id/pendidikan-keguruan/486-metodologi-penelitian-kualitatif-edisi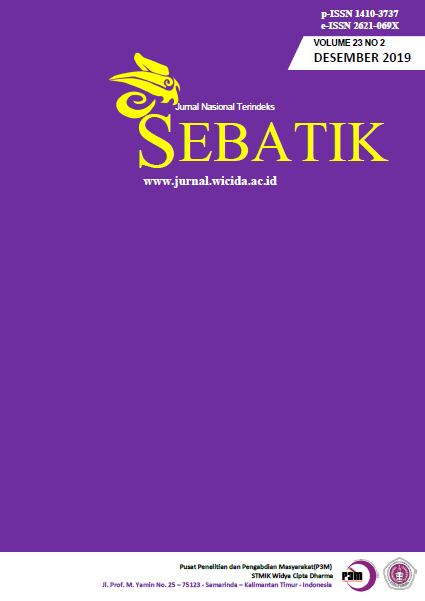 How to Cite
Johannis, M., Tanaamah, A. and Chernovita, H. (2019) "PERENCANAAN STRATEGIS SISTEM INFORMASI MENGGUNAKAN METODE WARD AND PEPPARD (STUDI KASUS: CV.GRAFIKA PRIMA MITRA AMBON)", Sebatik, 23(2), pp. 611-618. Available at: https://jurnal.wicida.ac.id/index.php/sebatik/article/view/818 (Accessed: 4April2020).
The copyright of this article is transferred to SEBATIK and STMIK Widya Cipta Dharma, when the article is accepted for publication. the authors transfer all and all rights into and to paper including but not limited to all copyrights in the SEBATIK. The author represents and warrants that the original is the original and that he/she is the author of this paper unless the material is clearly identified as the original source, with notification of the permission of the copyright owner if necessary. The author states that he has the authority and authority to make and carry out this task.
The author states that:
This paper has not been published in the same form elsewhere.
This will not be submitted elsewhere for publication prior to acceptance/rejection by this Journal.
A Copyright permission is obtained for material published elsewhere and who require permission for this reproduction. Furthermore, I / We hereby transfer the unlimited publication rights of the above paper to SEBATIK. Copyright transfer includes exclusive rights to reproduce and distribute articles, including reprints, translations, photographic reproductions, microforms, electronic forms (offline, online), or other similar reproductions. Author's can fill it on https://drive.google.com/file/d/1MZAv5k69pPFQ890CTFbzReVSfxCDVWbE/view
The author's mark is appropriate for and accepts responsibility for releasing this material on behalf of any and all coauthor. This Agreement shall be signed by at least one author who has obtained the consent of the co-author (s) if applicable. After the submission of this agreement is signed by the author concerned, the amendment of the author or in the order of the author listed shall not be accepted.
Rights / Terms and Conditions Saved
The author keeps all proprietary rights in every process, procedure, or article creation described in Work.
The author may reproduce or permit others to reproduce the work or derivative works for the author's personal use or for the use of the company, provided that the source and the Informatika Mulawarman copyright notice are indicated, the copy is not used in any way implying the Journal of Informatika Mulawarman (JIM) approval of the product or service from any company, and the copy itself is not offered for sale.
Although authors are permitted to reuse all or part of the Works in other works, this does not include granting third-party requests to reprint, republish, or other types of reuse.