PENDUKUNG KEPUTUSAN PEMILIHAN SISWA TERBAIK PADA SMA CENDERAWASIH 2 DENGAN MENGGUNAKAN METODE SIMPLE ADDITIVE WEIGHTING BERBASIS WEB
Jerry Prabu Setya Adi

Teknik Informatika, Fakultas Teknologi Informasi, Universitas Budi Luhur

Windarto Windarto

Teknik Informatika, Fakultas Teknologi Informasi, Universitas Budi Luhur
Keywords:
Pemilihan Siswa Terbaik, Simple Additive Weighting, Sistem Pendukung Keputusan
Abstract
Pemilihan siswa terbaik di SMA Cendrawasih 2 Tangerang dilakukan disetiap tahun menjelang kenaikan kelas dengan kriteria-kriteria yang ditentukan oleh pihak sekolah. Sehingga siswa yang belajar, berpeluang sama untuk mendapatkan hadiah atau penghargaan atas pencapaian terbaiknya. Beberapa masalah ketika pemilihan siswa terbaik dilakukan, misalnya masih dilakukan dengan cara yang manual. Selain itu, kriteria yang dipakai dalam pemilihan siswa terbaik hanya satu. Hal ini memungkinkan terpilihnya siswa yang tertuju ke sasaran yang tidak akurat, dikarenakan nilai akhir satu siswa dengan siswa lainnya bisa dimungkinkan sama. Metode Simple Additive Weighting (SAW) ini dipilih karena dapat menentukan nilai bobot untuk setiap atribut, kemudian dilanjutkan dengan proses perankingan yang akan menyeleksi alternatif terbaik dari sejumlah alternatif yang ada. Dalam hal ini alternatif yang dimaksud adalah pemilihan siswa terbaik pada SMA Cenderawsih 2. Dengan metode perangkingan tersebut diharapkan penilaian akan lebih tepat karena didasarkan pada nilai kriteria dan bobot yang sudah ditentukan sehingga akan mendapatkan hasil yang lebih cepat, akurat dan objektif.
Downloads
Download data is not yet available.
References
Atika, Fara dan, Prof. Budi Murtiyasa, M. Kom. (2017). Sistem Pendukung Keputusan Pemilihan Guru Berprestasi Di Kecamatan Kradenan Kabupaten Grobogan Menggunakan Metode Simple Additive Weighting. Diploma thesis, Universitas Muhammadiyah Surakarta.
Elistri, M., Wahyudi, J. and Supardi, R. (2014). Penerapan Metode SAW Dalam Sistem Pendukung Keputusan Pemilihan Jurusan Pada Sekolah Menengah Atas Negeri 8 Seluma, Jurnal Media Infotama Penerapan Metode SAW, 10(2), pp. 1858-2680.
Fitri, N. Y. and Nurhadi. (2017). Analisis dan Perancangan Sistem Pendukung Keputusan Penilaian Kinerja Guru Dengan Menggunakan Metode Simple Additive Weighting (SAW) Pada SMK Yadika Jambi, 2(2302–3805), pp. 318–326.
Nuril, H and Firdaus, W. (2015). Penilaian Prestasi Kerja Kinerja Pegawai Menggunakan Metode Fuzzy Tsukamoto. 2, pp. 41-48.
Rikki, A., Murni, M., and Jonson, R.(2016). Sistem Pendukung Keputusan Penerimaan Karyawan Dengan Metode SAW Pada PT. Karya Sahata Medan, Journal of Informatics Pelita Nusantara, 1(1), pp. 38-46.
Sihombing, R., Perdana, A., Solikhun, and Hartama, D. (2016). Sistem Pendukung Keputusan Pemilihan Guru Terbaik pada SMK Maria Goretti Pematangsiantar Menggunakan Metode Simple Additive Weighting (SAW), 1(1).
Situmorang, H. (2015) 'Sistem Pendukung Keputusan Pemilihan Calon Peserta Olimpiade Sains Tingkat Kabupaten Langkat Pada Madrasah Aliyah Negeri (Man) 2 Tanjung Pura Dengan Menggunakan Metode Simple Additive Weighting (SAW)', IV(2), pp. 24–30.
Sonata, F. (2016). Implementasi Metode Simple Additive Weighting (SAW) dengan Proses Fuzzifikasi dalam Penilaian Kinerja Dosen. Jurnal Teknologi Informasi dan Komunikasi, 5(2), pp. 71-80
Subakti, Irfan. (2002). Sistem Pendukung Keputusan. Jurusan Teknik Informatika, Fakultas Teknologi Informasi, Institut Teknologi Sepuluh Nopember. Surabaya. diakses pada 14 Nopember 2019.
Uswatun, N. (2019). Sistem Pendukung Keputusan Pemilihan Karyawan Terbaik Dengan Menggunakan Metode Simple Additive Weighting (Saw) Pada PT Ipro Solusi Canggih Berbasis Web. Jakarta; Novia Uswatun Nur Indahsari.
Utomo, M. (2015). Penerapan Metode SAW Pada Sistem Pendukung Keputusan Untuk Pemberian Beasiswa Pada SMA Negeri 1 Cepu Jawa Tengah. Fakultas Ilmu Komputer Universitas Dian Nuswantoro, Semarang.
Vidi and Gunawan. (2017). Sistem Pendukung Keputusan Pemilihan Kandidat Kepala Divisi Yayasan Airlangga Balikpapan Dengan Metode Simple Additive Weighting, 1(2), pp. 59-64.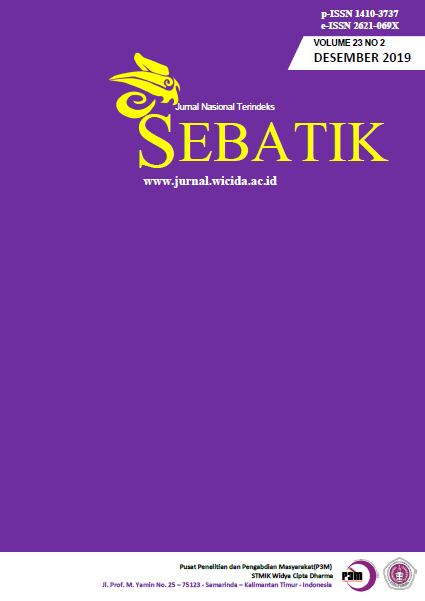 How to Cite
Adi, J. and Windarto, W. (2019) "PENDUKUNG KEPUTUSAN PEMILIHAN SISWA TERBAIK PADA SMA CENDERAWASIH 2 DENGAN MENGGUNAKAN METODE SIMPLE ADDITIVE WEIGHTING BERBASIS WEB", Sebatik, 23(2), pp. 534-540. Available at: https://jurnal.wicida.ac.id/index.php/sebatik/article/view/826 (Accessed: 7April2020).
The copyright of this article is transferred to SEBATIK and STMIK Widya Cipta Dharma, when the article is accepted for publication. the authors transfer all and all rights into and to paper including but not limited to all copyrights in the SEBATIK. The author represents and warrants that the original is the original and that he/she is the author of this paper unless the material is clearly identified as the original source, with notification of the permission of the copyright owner if necessary. The author states that he has the authority and authority to make and carry out this task.
The author states that:
This paper has not been published in the same form elsewhere.
This will not be submitted elsewhere for publication prior to acceptance/rejection by this Journal.
A Copyright permission is obtained for material published elsewhere and who require permission for this reproduction. Furthermore, I / We hereby transfer the unlimited publication rights of the above paper to SEBATIK. Copyright transfer includes exclusive rights to reproduce and distribute articles, including reprints, translations, photographic reproductions, microforms, electronic forms (offline, online), or other similar reproductions. Author's can fill it on https://drive.google.com/file/d/1MZAv5k69pPFQ890CTFbzReVSfxCDVWbE/view
The author's mark is appropriate for and accepts responsibility for releasing this material on behalf of any and all coauthor. This Agreement shall be signed by at least one author who has obtained the consent of the co-author (s) if applicable. After the submission of this agreement is signed by the author concerned, the amendment of the author or in the order of the author listed shall not be accepted.
Rights / Terms and Conditions Saved
The author keeps all proprietary rights in every process, procedure, or article creation described in Work.
The author may reproduce or permit others to reproduce the work or derivative works for the author's personal use or for the use of the company, provided that the source and the Informatika Mulawarman copyright notice are indicated, the copy is not used in any way implying the Journal of Informatika Mulawarman (JIM) approval of the product or service from any company, and the copy itself is not offered for sale.
Although authors are permitted to reuse all or part of the Works in other works, this does not include granting third-party requests to reprint, republish, or other types of reuse.