PERANCANGAN MOBIL REMOTE CONTROL MENGUNAKAN ARDUINO UNO
Andi Yusika

Teknik Informatika,Sekolah Tinggi Manajemen Informatika dan Komputer Widya Cipta Dharma

Ahmad Rofiq

Teknik Informatika, Politeknik Negeri Samarinda

Ade Tri Ramadhani

Teknik Informatika,Sekolah Tinggi Manajemen Informatika dan Komputer Widya Cipta Dharma
Keywords:
Android, Arduino uno, Mobil Remote Contro
Abstract
Tujuan dari Penelitian ini menghasilkan sebuah aplikasi Android yang mampu memberikan kendali jarak jauh pada mobil remote control melalui koneksi bluetooth,Sebagai pengendali gerak. Pembuatan perangkat yang menggunakan rekayasa IC pada mesin remote control dan aplikasi ini sebagai alternatif baru yang mudah dikembangkan untuk remote control. Arduino uno dikembangkan dalam bahasa pemprogramannya dan perakitannya dapat meminimalisir kesulitan untuk membuat perangkat mobil remote control rakitan sendiri. Metode dalam penelitian ini,teknik pengumpulan data yang digunakan adalah Observasi, dan Studi Pustaka. Pengujian aplikasi dilakukan dengan menggunakan pengujian Black Box  Hasil dari penelitian ini adalah merancang sebuah mobil remote control dari mulai komponen dasar hingga komponen terpentingnya, sehingga dalam sebuah perakitan membutuhkan kreatifitas dalam merancang mobil dengan  arduino uno sebagai otak pengendali motor DC untuk bergerak maju, mundur, dan berbelok yang bisa di kendalikan oleh aplikasi smartphone android
Downloads
Download data is not yet available.
References
Arduino uno, 2016. Arduino – ArduinoUno. https://store.arduino.cc/usa/arduino-uno-rev3 (Diakses 17 September 2018.)

ArifSulaiman, 2012. ARDUINO :bagipemulahinggamahir. http://buletin.balaielektonika.com/?p=163. Diakses 18Agustus 2018
Kristyabudi Perdana Nanda Hen, 2016. Sistem Kendali Remote Control Mini-Blimp Menggunakan Android Smartphone dengan Komunikasi Bluetooh Berbasis . Yogyakarta : Universitas Sanata Dharma.

Roger S Pressman, 2012, Rekayasa Perangkat Lunak (Pendekatan Praktisi) Edisi 7 : Buku 1. Yogyakarta : Andi.

Saftari Firmansyah, 2015. Proyek Robotik Keren Dengan Arduino. PT. Elex Media Komputindo

Simanjuntak, MG, 2013. Chapter II Mikro Arduino. Medan

Stephanus S Hermawan, 2011. Mudah Membuat Aplikasi Android. Yogyakarta : Andi Offset.

Widodo Budiharto 2010. Robotika Teori dan Implementasi. Yogyakarta : Andi
Yusron dan Haryoko, 2009. Sistem Kendali, Yogyakarta : Graha Ilmu.
Hadi, A. J., 2019. LITERATUR REVIEW, Model Modifikasi Intervensi Pencegahan Obesitas. Indomedia Pustaka.
Stefano, A, 2018. Cara Mudah Menggunakan Autocad: Untuk Semua Versi & Disiplin Ilmu. Andi.
Kristina, K., 2018. Mudahnya Belajar Sistem Imun: Ada Animasi Imut-imut Lho!. Kaaffah Learning Center.
Elbadiansyah, E. 2019. Manajemen Sumber Daya Manusia. IRDH.
Pratiwi, H. (2019). Buku Ajar: Sistem Pakar. Goresan Pena.
Umar, U. (2019). Pengantar Profesi Keguruan. Rajawali Press.
Noorbaya, S., & Johan, H. (2019). PANDUAN BELAJAR Asuhan Neonatus, Bayi, Balita dan Anak Prasekolah. Gosyen Publishing.
Pahrudin, P. (2019). Etika Profesi Komputer. Goresan Pena Kuningan.

Rosdiana, R. (2018). Cegah Penggunaan Narkotika Melalui Promosi Kesehatan. Kaaffah Learning Center.

Ramadiani, R., Hidayanto, A. N., Azainil, A., Hatta, H. R., Khairina, D. M., & Maharani, S. (2019). Model dan Bentuk Penelitian E-Learning Menggunakan Structural Equation ModeL. UNMUL Press.
Hadi, A. J. (2019). LITERATUR REVIEW, Model Modifikasi Intervensi Pencegahan Obesitas. Indomedia Pustaka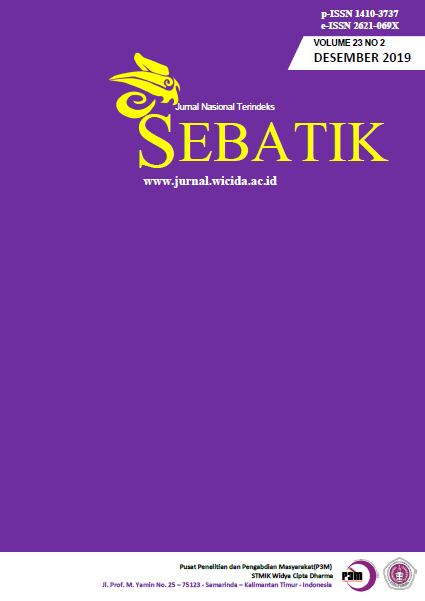 How to Cite
Yusika, A., Rofiq, A. and Ramadhani, A. (2019) "PERANCANGAN MOBIL REMOTE CONTROL MENGUNAKAN ARDUINO UNO", Sebatik, 23(2), pp. 541-546. Available at: https://jurnal.wicida.ac.id/index.php/sebatik/article/view/828 (Accessed: 4April2020).
The copyright of this article is transferred to SEBATIK and STMIK Widya Cipta Dharma, when the article is accepted for publication. the authors transfer all and all rights into and to paper including but not limited to all copyrights in the SEBATIK. The author represents and warrants that the original is the original and that he/she is the author of this paper unless the material is clearly identified as the original source, with notification of the permission of the copyright owner if necessary. The author states that he has the authority and authority to make and carry out this task.
The author states that:
This paper has not been published in the same form elsewhere.
This will not be submitted elsewhere for publication prior to acceptance/rejection by this Journal.
A Copyright permission is obtained for material published elsewhere and who require permission for this reproduction. Furthermore, I / We hereby transfer the unlimited publication rights of the above paper to SEBATIK. Copyright transfer includes exclusive rights to reproduce and distribute articles, including reprints, translations, photographic reproductions, microforms, electronic forms (offline, online), or other similar reproductions. Author's can fill it on https://drive.google.com/file/d/1MZAv5k69pPFQ890CTFbzReVSfxCDVWbE/view
The author's mark is appropriate for and accepts responsibility for releasing this material on behalf of any and all coauthor. This Agreement shall be signed by at least one author who has obtained the consent of the co-author (s) if applicable. After the submission of this agreement is signed by the author concerned, the amendment of the author or in the order of the author listed shall not be accepted.
Rights / Terms and Conditions Saved
The author keeps all proprietary rights in every process, procedure, or article creation described in Work.
The author may reproduce or permit others to reproduce the work or derivative works for the author's personal use or for the use of the company, provided that the source and the Informatika Mulawarman copyright notice are indicated, the copy is not used in any way implying the Journal of Informatika Mulawarman (JIM) approval of the product or service from any company, and the copy itself is not offered for sale.
Although authors are permitted to reuse all or part of the Works in other works, this does not include granting third-party requests to reprint, republish, or other types of reuse.