ANALISIS TATA KELOLA TEKNOLOGI INFORMASI MENGGUNAKAN FRAMEWORK COBIT 5 DOMAIN DELIVER SUPPORT AND SERVICE (STUDI KASUS: YAYASAN EKA TJIPTA)
Andreas Wiraniagara

Program Studi Manajemen Sistem Informasi, Universitas Bina Nusantara, Jakarta

Agustinus Fritz Wijaya

Program Studi Sistem Informasi, Universitas Kristen Satya Wacana, Salatiga
Keywords:
Tata Kelola Teknologi Informasi, Framework COBIT 5, Domain Deliver Service and Support, Yayasan, Perusahaan
Abstract
Yayasan Eka Tjipta merupakan suatu organisasi nirlaba yang berada di bawah bendera perusahaan Sinarmas. Tugas utama dari Yayasan Eka Tjipta adalah memberikan beasiswa kepada mahasiswa-mahasiswa dari universitas yang bekerjasama dengan Yayasan Eka Tjipta. Saat ini proses bisnis Yayasan Eka Tjipta yang menggunakan komputer masih saja menemui beberapa masalah, seperti database sistem yang tidak terupdate datanya. Oleh karena itu, diperlukan audit dan analisis terhadap tata kelola teknologi informasi yang ada sehingga kekurangan tata kelola teknologi informasi pada Yayasan Eka Tjipta dapat diperbaiki lebih lagi. Hasil dari penelitian ini adalah rekomendasi dari permasalahan penggunaan tata kelola teknologi informasi di Yayasan Eka Tjipta. Dalam pelaksanaan audit, digunakan pendekatan dengan COBIT 5 dengan 3 responden dari beberapa divisi Yayasan Eka Tjipta dan menggunakan metode mix method serta kuesioner untuk pengambilan datanya. Penelitian ini berfokus pada domain DSS (Deliver, Support, and Service) dengan 6 sub domain yang berbicara tentang pemberian layanan teknologi informasi serta dukungannya. Hasil dari penelitian ini menunjukan bahwa 4 sub domain masih berada di level 1 (Performed Process) dan 2 sisanya berada di level 2 (Managed Process) dan level 3 (Established Process).
Downloads
Download data is not yet available.
References
AL-RASYID. ACHYAR, 2015, Analisis Audit Sistem Informasi Berbasis COBIT 5 Pada Domain Deliver, Service, and Support (DSS) (Studi Kasus: SIM-BL di Unit CDC PT. Telkom Pusat. Tbk), Universitas Telkom.
ADI. YOSAFANTO, FRITZ. AGUSTINUS. WIJAYA, 2017, Evaluasi Kinerja Teknologi Informasi Dana Pensiun Sekolah Kristen Salatiga Menggunakan Framework COBIT 5.
TRI. ANEKE. ANDANI, FRITZ. AGUSTINUS. WIJAYA, 2017, Evaluasi Kinerja Sistem Informasi E-Filing Menggunakan COBIT 5 Pada Kantor Pelayanan Pajak Pratama Kota Salatiga.
ISACA, 2012, COBIT 5: A Business Framework for Governance & Management i,. USA: IT Governance Institute.
KURNIA. RIO. CANDRA, ATASTINA. IMELDA, FIRDAUS. YANUAR, 2015, Audit Teknologi Informasi menggunakan Framework COBIT 5 Pada Domain DSS (Delivery, Service, and Support) (Studi Kasus: iGracias Telkom University), Universitas Telkom.
ISACA, 2012, COBIT 5 Principles, Process Reference Model.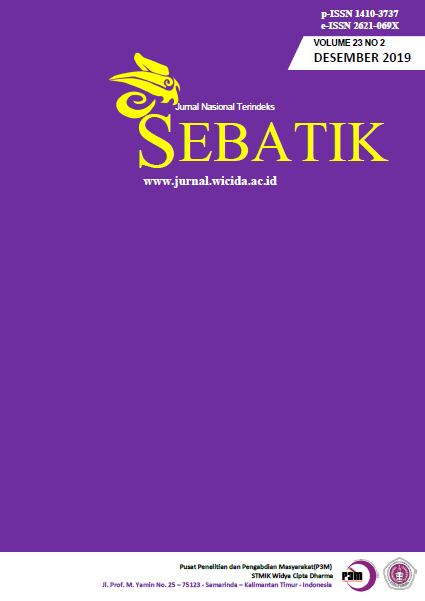 How to Cite
Wiraniagara, A. and Wijaya, A. (2019) "ANALISIS TATA KELOLA TEKNOLOGI INFORMASI MENGGUNAKAN FRAMEWORK COBIT 5 DOMAIN DELIVER SUPPORT AND SERVICE (STUDI KASUS: YAYASAN EKA TJIPTA)", Sebatik, 23(2), pp. 663-671. Available at: https://jurnal.wicida.ac.id/index.php/sebatik/article/view/831 (Accessed: 28November2021).
The copyright of this article is transferred to SEBATIK and STMIK Widya Cipta Dharma, when the article is accepted for publication. the authors transfer all and all rights into and to paper including but not limited to all copyrights in the SEBATIK. The author represents and warrants that the original is the original and that he/she is the author of this paper unless the material is clearly identified as the original source, with notification of the permission of the copyright owner if necessary.
A Copyright permission is obtained for material published elsewhere and who require permission for this reproduction. Furthermore, I / We hereby transfer the unlimited publication rights of the above paper to SEBATIK. Copyright transfer includes exclusive rights to reproduce and distribute articles, including reprints, translations, photographic reproductions, microforms, electronic forms (offline, online), or other similar reproductions.
The author's mark is appropriate for and accepts responsibility for releasing this material on behalf of any and all coauthor. This Agreement shall be signed by at least one author who has obtained the consent of the co-author (s) if applicable. After the submission of this agreement is signed by the author concerned, the amendment of the author or in the order of the author listed shall not be accepted.